Adam Shaheen: Break Through Star?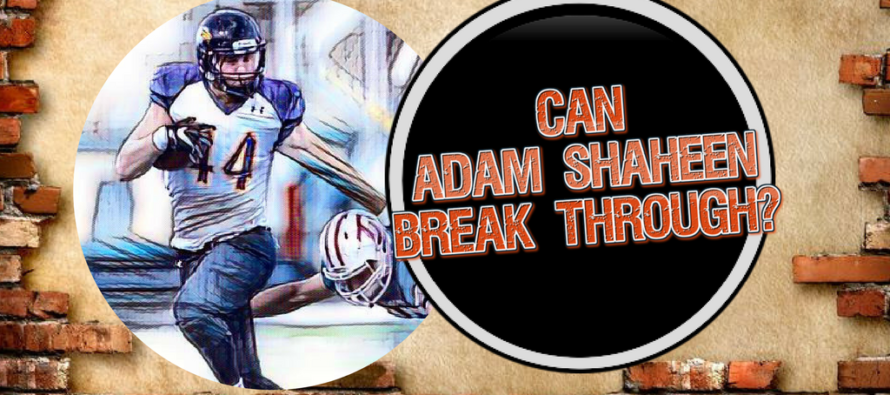 Ryan Pace proved he's not kidding when espousing his Best Player Available philosophy. When he selected Adam Shaheen of Division II Ashland University in the second round of the draft most fans were seriously wondering if Pace was the best man for the general manager's job.
When asked, "Why Shaheen?" he answered in what is now his player personnel mantra, "It's obviously taking best player." He added, "When Adam was there, his grades were clearly the highest grades on the board. It wasn't a difficult decision. We're staying true to our board."
Shaheen has been been given the nickname "Baby Gronk," because his play and persona resembles that of New England's best player not named Brady.
Shaheen's measurables are similar to the Patriots' tight end Rob Gronkowski, as illustrated below by NFL.com.
Adam Shaheen's college coach Lee Owens joined @Spiegel_Parkins to share his thoughts on the Chicago Bears 2nd round draft pick.
What are #Bears getting in TE Adam Shaheen? Ashland coach Lee Owens joined @Spiegel_Parkins to explain. Full shows: https://t.co/rnaPlBXjWQ pic.twitter.com/T4fiaFJTMv

— 670 The Score (@670TheScore) May 1, 2017
After the draft Pace said the Shaheen wasn't only the best player available, but that tight end was a position of need. Something that's probably news to Zach Miller, Dion Sims, Daniel Brown and Ben Braunecker. But, we know that competition is good and insuring yourself with depth is equally beneficial.
The gamble is whether Pace's projection of a player who was a Baby Gronk against babies and whether Shaheen can hang with the real Gronks.
Ryan Pace's Thoughts On Adam Shaheen
.@ChicagoBears general manager Ryan Pace has high praise for Adam Shaheen, his new tight end out of Ashland University! pic.twitter.com/9kQGXY4Pye

— Ashland Athletics (@goashlandeagles) April 29, 2017
Adam Shaheen Highlight Reel
.@adamshaheen3 eats yards for breakfast, lunch, and dinner. #BearsDraft pic.twitter.com/sySpYj4GnX

— Chicago Bears (@ChicagoBears) April 29, 2017
Aldo Gandia
Among my career highlights I have produced two films while in high school that received nationwide attention; leaned out of a helicopter over the Gulf of Suez at the age of 20 to shoot movies of oil rigs; won an Emmy award for a sports special and another for a kid's fitness show; and led a team of very talented creative professionals to produce break-through corporate communications.
---
---