A Pre-Packer Game Letter From Brett Maly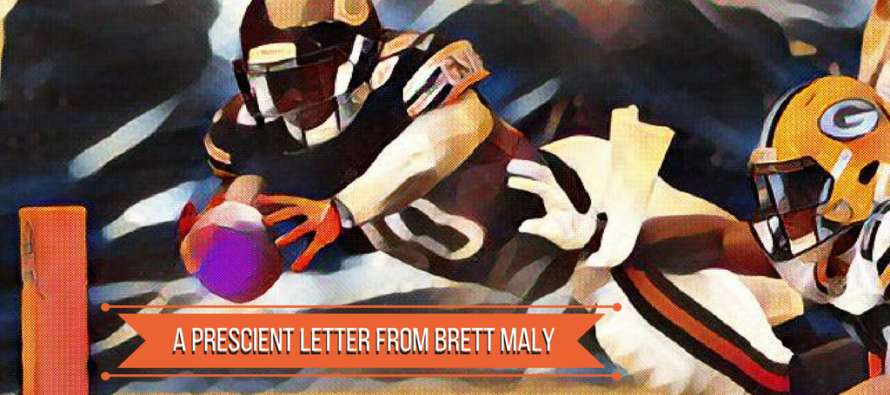 (I received the following e-mail from Brett Maly while I was on my way to the Bears game. I wish I had time to post it prior to the Packers game, but nonetheless I still think it's worthy of your attention. Thanks, Barflies and thank you, Brett – aldo) 
Hi Aldo:
I want to get this on the record before the game starts…
The Bears have a good offensive line, good running backs, good defensive line, good linebackers (even with Trevathan out), and a good secondary.
The Pack are a mess: they are on the road after a short week following a blow-out loss at home, their superstar QB is out, their prized free agent acquisition defected; they're injured; they're demoralized; their coaches are on the hot seat.  They're dazed and on the ropes, primed for the knockout punch to be delivered!
The Bears should deliver that blow!  They're hungry after a bye and playing to a boisterous home crowd that smells blood in the water.  This should be their statement game.  The old guard is dead and the Bears are primed for a takeover!  We should win by 10+.
That said, here's what will probably happen…
The Bears–even after two weeks–will look unprepared.  The first few Pack drives will be efficient, while the Bears will look lost on offense (allowing free blitzers, predictable play-calling, the works!).  I also expect a couple of drive-killing penalties (on offense) or drive-sustaining penalties (on defense).
The Bears will right the ship and play better following the initial malaise, but the crowd will be quiet after the slow start and the Pack will have life realizing the knock-out punch they were expecting won't be delivered.  The game will devolve into a war of attrition.  Ol' Foxy will shut the offense down into kill-the-clock mode and wait for Brett Hundley to beat them.   Then–either through volume of opportunity, a dynamic play made by a Packer receiver, or a poor play by a gassed defense–I expect the Pack will connect on something fluky, forcing the Bears out of their shell late in the 4th quarter and placing the game into the hands of their most suspect units: an unproven QB and receivers, and a kicker that can't be trusted.
The Bears may still eek out a win with this approach (I can see Fox puffing out his chest in his post-game presser, talking about how he knew it was going to be close, tough game), but it shouldn't be this way!!!  Why do I feel the only "statement" made during this game will be that John Fox is not the coach to take this team to the next level?  Of course, we already knew that, but with the Packers in town I hope we're wrong…for one game at least!
Have a good Sunday,
Please Read Brett's Story On Instant Replay
Check Out Kris Armstrong's Angry Take On The Bears Loss to the Packers
Brett Maly
Brett lives in Vegas, baby. Vegas. When he's not appraising and selling fine art in Las Vegas, where he appears as art expert for History Channel's PAWN STARS, Brett's indulging his other passions—his family and Chicago Bears football (not necessarily in that order)! Brett has a private Twitter account so if you want to contact him send an e-mail to bearndesert@aol.com
---
---
Related Articles
This is Episode II of Brett Maly's Frustrating Moments in Bears History. Brett recollects the Chicago Bears' 34 to 37
Jeff Hartman the editor at Behindthesteelcurtain.com give us a peek behind that steel curtain so we can learn more about the
Deshaun Watson could soon become the franchise quarterback for the Chicago Bears. That's the hope of more and more people,